We know how important your Dallas, TX bachelorette party is to you. Many ladies have thought about what to do for months and even years. In this article, we will help you plan and give you ideas for your bachelorette party in Dallas, TX. We will discuss booking a hotel, finding the right restaurant, sites to see, activities to do, and how to hire male strippers.
You definitely need to hire Dallas, TX male strippers for your bachelorette party. This is of the upmost priority as there is a significantly high demand for male strippers in Dallas TX.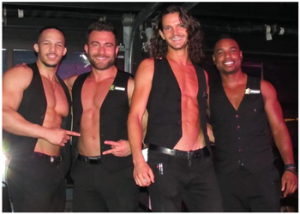 Male strippers are top-notch entertainers. They are trained by the best male strippers in the business. These hunks are not just good looking and ripped, they put on a phenomenal performance. They will come in a costume with choreographed music, ready to put on a great show. The bride will be in an armless chair with all the ladies gathered around her. Music plays, and the male strippers come in clapping their hands, getting the crowd riled up and ready to party.
There are some important tips to ensure all the ladies have the best time possible. Put the bride in a chair and gather all the ladies close in a semi-circle. Make sure they can all see the bachelorette. Have room for the male stripper to move around. Have plenty of excitement and make a lot of noise. Lastly, have plenty of bills ready to make it rain!
Call Strippers For You and a manager will take the time necessary to make sure you get hot male strippers to make your bachelorette party complete.
Places To Stay In Dallas TX
Finding the right place to stay is the next step. Make sure you book a hotel with plenty of room and one offering enough amenities. Hyatt Regency Dallas is the perfect fit. Located at 300 Reunion, Dallas, TX 7501. At the Hyatt Regency Dallas, you will receive quality service, rooms, at an affordable price. There are plenty of amenities, including:
Internet
Electric Vehicle Charging
Restaurant
Room Service
Fitness Center
Pool
Pet Friendly
Digital Key
Digital Check In
Laundry
Concierge
Meeting Facilities
Places To Eat For Your Bachelorette Party In Dallas TX
Plan where you will eat while celebrating your Dallas bachelorette party. Below we list a popular restaurant, a personal chef, and a dessert venue.
Popular Restaurant
Rodeo Goat, located at 1926 Market Center Boulevard, Dallas, TX 75207, is recognized among the best Dallas restaurants. This restaurant has great food at an affordable price. These are house ground burgers. Their nanny goat has herb goat cheese, bibb lettuce, beefsteak tomato, onion, and garlic herb mayo. You can also substitute the beef with ground turkey, ground chicken, or a vegan patty.
Personal Chef
Hiring a personal chef brings the restaurant to you. LK Culinary is a reputable company that will come to your location in the Dallas, TX area. These personal chefs have a variety of menus to choose from. The sushi is our favorite. They will bring the sushi bar to your location. Carefully taking the time to properly prepare each delicious roll in front of your party. Book in advance since they are in high demand.
Delicious Desserts
Speaking of desserts, you need to take a trip to Emporium Pies. Every lady loves to eat pie. They are located at 2708 Main Street, Dallas, TX 75226. Emporium Pies is a specialty pie shop. Everything they make is handcrafted with the finest ingredients. No corn syrup, hydrogenated oil, preservatives, or dyes. You have a selection of different pies, depending on the season. Make sure everyone brings their appetite.
Dallas TX Bachelorette Party Activities
Plan some fun activities for your special event. Here are some interesting bachelorette party ideas to enjoy during your stay in Dallas, TX.
Pole Dancing
We know you will hire male strippers to entice all the ladies, but you can also take a fun pole dancing class so you can show off your moves to that special someone. Zensual Dallas Fitness is located at 17062 Preston Road Platform, Dallas, TX 75248.
For your sophisticated, seductive event, Zensual Dallas Fitness is the ideal venue. A pole dancing party, whether it be at our studio or one at your house or hotel, is the hottest experience in Texas! There are many positive testimonials from previous bachelorette parties.
Spa Day
A spa day will be cherished by all the ladies in the bachelorette party. You deserve to pamper yourselves. The Nook Spa is just the place. They are located at 17477 Preston Road, Dallas, TX 75252.
Therapeutic massages, body treatments, facials, anti-aging procedures, enhancements, and infrared saunas are all available at The Nook Spa. All spa services in Dallas, Texas are delivered by qualified therapists and estheticians.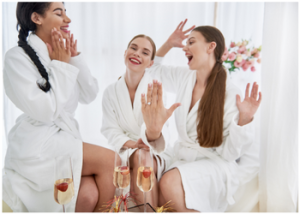 With seven luxurious treatment rooms outfitted with the finest linens and equipment, their upmarket luxury day spa offers a full day spa experience.
In addition to Swedish massage, they also provide hot stone massage, aromatherapy massage, deep tissue massage, sports massage, trigger point massage, and reflexology. Shiatsu massages, Thai massages, pregnancy massages, and couple's massages can all be customized to the needs and preferences of the customer.
Night Club
After a full day of exciting events, the best way to cap off the bachelorette party is to cut loose at a happening nightclub or bar. Rokwood Nightclub and Bar is located at 600 Jackson Street, Dallas, TX 75202.
All the other Dallas bachelorette parties will be there dressed to impress. They have a strict dress code, which helps keep the upscale environment. The design is amazing and includes a rooftop patio.
Savannah GA Bachelorette Party 
Do not get stressed. Planning a bachelorette party can be overwhelming, yet rewarding when planned accordingly. We have helped tens of thousands of parties plan their bachelorette parties over the span of thirty years. These suggestions will guarantee all the ladies have a splendid time. The most important things to remember are the hotel, dinner, and male strippers; emphasis on male strippers. Have a wonderful time!